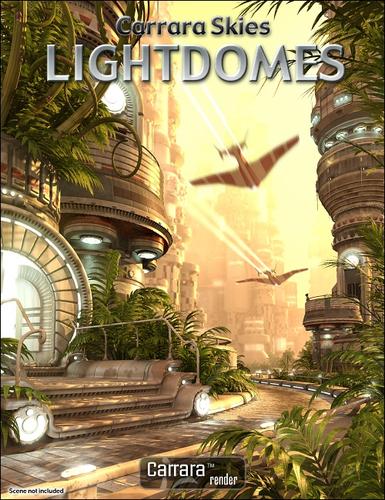 Tim Payne is back with an update of his previous item and on the release day an amazing 50% off with the March Madness sale.
Here are the details from Tim himself:
I'm getting back into content creation, and I'm really happy to finally be presenting Carrara Skies Lightdomes 2 – all the great features of the first volume, but with a much wider range of lighting colors. Whether you're rendering alien worlds, ancient adventures, future dystopias, or portraits of your favorite characters, CSLD2 makes it really easy to get great lighting results.
Carrara Skies Lightdomes 2 includes two perfectly matched sets of light rigs – one for use with, and the other without, Carrara Skies Volume 2. Two sets of light rigs are necessary because an atmosphere dims and tints far away lights. Each light rig has three lightdome quality options so you can pick the ideal balance of speed and quality for your scene.
The colors of these lightdomes are far more natural than the Skylight GI produced by Carrara's Realistic Sky, and with the light rigs' bounce and ambient components you get results that look similar to Indirect Lighting, but in a fraction of the time.
For complex scenes, these lightdomes can render faster than comparable Skylight global illumination, and they use less memory too. They won't always be faster – it really depends on what kind of objects and shaders are in the scene – but in many cases they will be.
Another really cool advantage of these lightdomes over conventional global illumination is that they produce specular reflections. The colors and intensities of the individual lights in the dome is controlled by the actual colors of the sky, and this provides a subtle and very realistic approximation of blurry environment reflections on shaders with high specularity. Renders won't look flat like they so often do when rendered with IBL or HDRI.
Get it at: http://www.daz3d.com/carrara-skies-lightdomes-2